Creator
Rob Croxford is a local government specialist who assists and advises clients to deliver the right services at the optimal costs because he believes this is the key to improving community satisfaction levels.
Purpose
The manifesto word cloud sets out what Croxford Consulting stands for.
Manifesto
"I believe that your communities deserve to receive excellent local government services."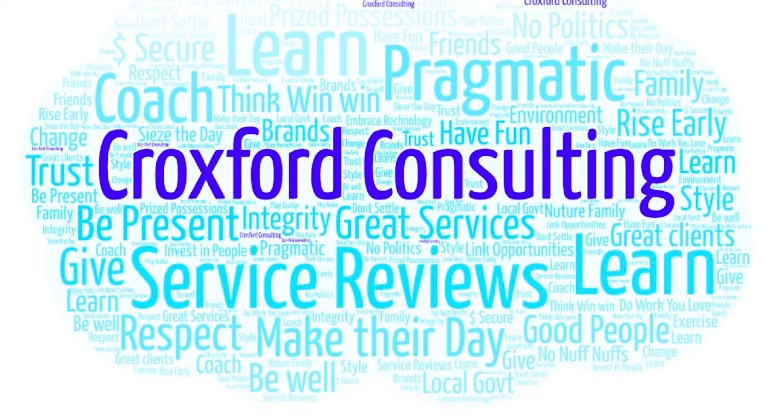 Source
Rob Croxford's Linked In Profile: https://www.linkedin.com/in/rob-croxford-180521126/
Comment
This is a simple and effective way to quickly create your manifesto.
The Croxford Consulting Manifesto is a mix of values, business offers and principles simply listed and presented as a word cloud.
Word clouds present a series of words with a hierarchy of their importance. Words are displayed at different sizes depending upon their importance or how often they are used.
Here are some quick steps for creating your own Word Cloud Manifesto:
Write down a list of the things that are important to you – your values eg Learn, Give, Pragmatic
Write down principles or strategies that guide what you do eg Rise Early
For business, write down a list of the services you provide eg Service Reviews
Do a search for 'Word Cloud Generator'
Type your words into the generator and arrange them so the most important ones shine through. Use colours that reflect your brand or personality.
Save your manifesto as an image file
Share it on your website, blog, social media, Linked In profile etc.
One thing that can lift your manifesto is to give it a distinctive title – we want to call it something.
This may be as simple as 'Rackspace Core Values', which can be useful but is also generic.
Another angle is to take the title from the key words like Emily McDowell has done in her Let's Get Real manifesto.
This starts to take your manifesto from being just about you to being a double-sided vision that your clients and community can also buy into.
Notice how you relate to 'Rackspace Core Values' versus 'Let's Get Real'. For me, 'Let's Get Real' is more inclusive.
For Rob, I think the next level manifesto would be his philosophy around how to provide 'excellent local government services.'
More