Creator
Nutiva is a US based good supplier founded by John Roulac in 1999.
Purpose
Food is no longer just a personal issue about what you put in your mouth. It is now a choice that can have a profound impact on the planet.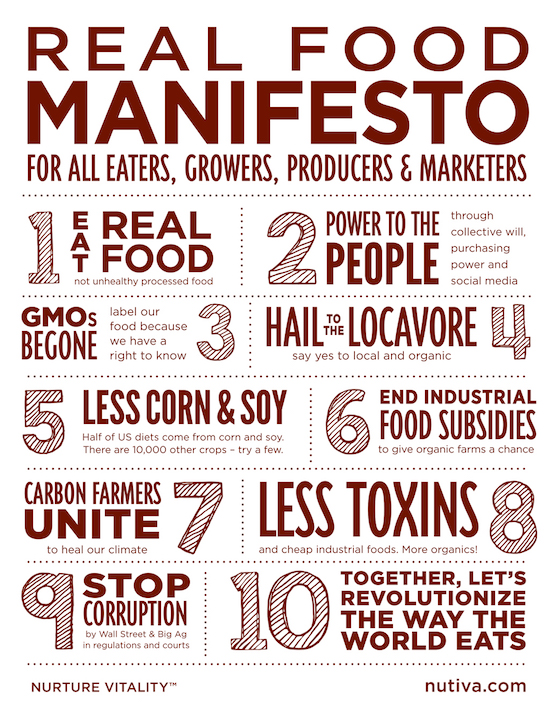 Manifesto
The Visual
Real food manifesto for all eaters, growers, producers and marketers
Eat real food not unhealthy processed food
Power to the people through collective will, purchasing power and social media
GMOs begone – label our food because we have a right to know
Hail to the locavore – say yes to local and organic
Less corn and soy – Half of US diets come from corn and soy. There are 10,000 other crops – try a few.
End industrial food subsidies to give organic farms a chance
Carbon farmers unite to heal our climate
Less toxins and cheap industrial foods. More organics!
Stop corruption by Wall Street and Big Ag in regulations and courts
Together, let's revolutionize the way the world eats
The Mini-festo
In a world where the industrialized food system has led us down a tangled path, where food choices have been reduced to the lesser-of-evils, and where distrust reigns, we are the champions of the greater good.
Tireless seekers of pure and delicious foods that will nourish our bodies and our planet, we have devoted ourselves to a dream, a vision, a mission. We will revolutionize the way the world eats! And in so doing we will bring nourishment and balance, health and well being, sustainability and community to people and planet.
We know change is hard but we want to make it easy. We went out looking for the kind of foods that packed a powerful amount of nutrition into every bite, so that you could make small changes to big effect.
We found superfoods – nutrient-dense powerhouses that can also be grown and processed in a sustainable way. These are foods that are truly good for you and for the planet. They're foods like hemp and coconut, chia and red palm. They're organic, full of vital nutrition, easy to use and delicious additions to your diet.
We say food doesn't have to be a choice between the lesser of evils. We say let food lead us to a better world. We say super people deserve superfoods. We say, come join us in our mission.
Together, we can change the world.
Source
Comment
This is a great example of sharing your message and your manifesto in multiple ways.
First, a brief, easy-to-read visual based on ten bullet points – a rule based manifesto.
Second, a short 230 statement that promotes a similar message with a different set of words – a worldview manifesto.
Which one do you prefer?
The great benefit of a brief visual is that it can be readily shared and easily consumed. The downside is that it can over simply your issue.
The great benefit of a short statement is that you can be more precise in what you're standing for and provide more depth. The downside is that fewer people will engage with a mass of words.
Ideally, you would want to have both to present different angles and viewpoints for your issue.
More
Andrew Castronovo – Superfood Manifesto