Creator
Jane Milburn is a sustainability consultant and Slow Clothing pioneer. She established Textile Beat as a purpose-driven business in Brisbane in 2013.
Purpose
"Every day, we eat and we dress. We have become conscious of our food, it is time to become more conscious of our clothing. We believe in slow clothing: dressing for health and wellbeing rather than status and looks. We believe in ethical, sustainable choices that don't harm people or the planet. We want to know the story about where clothing comes from and we believe in care and repair, refashion and restyle of existing clothing using simple sewing skills." (Textile Beat)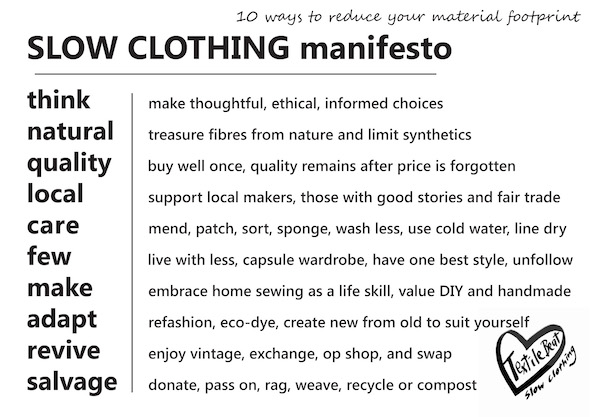 Manifesto
Think: make thoughtful, ethical, informed choices
Natural: treasure fibres from nature and limit synthetics
Quality: buy well once, quality remains after price is forgotten
Local: support local makers, those with good stories and fair trade
Care: mend, patch, sort, sponge, wash less, use cold water, line dry
Few: live with less, capsule wardrobe, have one best style, unfollow
Make: embrace home sewing as a life skill, value DIY and handmade
Adapt: refashion, eco-dye, create new from old to suit yourself
Revive: enjoy vintage, exchange, op shop and swap
Salvage: donate, pass on, rag, weave, recycle or compost
Source
https://textilebeat.com/tag/slow-clothing-manifesto/
Comment
This is another manifesto for the slow movement.
It highlights the versatility of a good idea: slow. There is slow food, slow travel, slow parenting and now slow clothing.
Slow is not just a way of being in the world. It also fits into the world of sustainability, nature and making the most of our resources.
It triggers a diverse response that is beautifully captured in this manifesto including: natural products, purchasing decisions, recycling, repair, sharing and expressing yourself.
More
Christopher Richards: The Slow Movement
Lebbeus Woods – Slow Manifesto (architecture)