Creator
Might Could is a design studio based in the North Carolina, US. It is lead by Christine, Declan and Oni Nishiyama.
Purpose
The social media platforms like Instagram all shape how we can consume and share our art. This is Might Could's philosophy for how to cope with this and stay in control – rather than being controlled.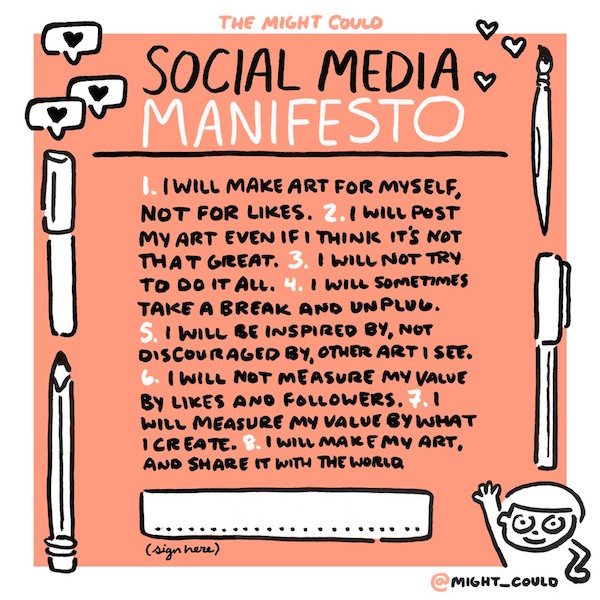 Manifesto
I will make art for myself, not for likes.
I will pot my art even if I think it's not that great.
I will not try t do it all.
I will sometimes take a break and unplug.
I will be inspired by, not discouraged by, other art I see.
I will not measure my value by likes and followers.
I will measure my value by what I create.
I will make my art, and share it with the world.
Source
Comment
This manifesto is short, sharp, simple.
There are no prizes for having the longest manifesto. I'd even add that the longer your manifesto the less likely someone is to read the whole thing.
Plus, the visual is a complementary style of being simple and playful.
Naturally, there is a balance here between brevity and depth. This example is a good one of having a neat short visual with a longer blog post going into more details. I like to think of content as a series of layers ranging from a snack to a full meal. Let people enage with your ideas in multiple ways.
I particularly like the place to 'sign here'. This is a simple gesture to invite you to join the movement and more importantly commit to the manifesto, which I think is more important.
At the end of the day, life is not about tagging along with the crowd. I think it's more important that we live true to the things that are important to us and that we are truly committed to.
Also, when you type 'social media manifesto' into Google there are at least four books with this title on the home page. You don't have to be the one and only to make a difference.
More
Jonathan Heawood – A New Manifesto for Media Ethics
Jeremy Samuel – Social Media Engagement Manifesto
Christopher Carfi – The Social Customer Manifesto (for living in the social media world)