Creator
Geoff McDonald, author of Done and curator of 1000Manifestos.com
Purpose
The Seven Rules – They are rules because they are principles, guidelines, actions, procedures and hopefully useful! They are the seven key ideas that allow us to move from the usual way of doing project planning to the more holistic view of project design.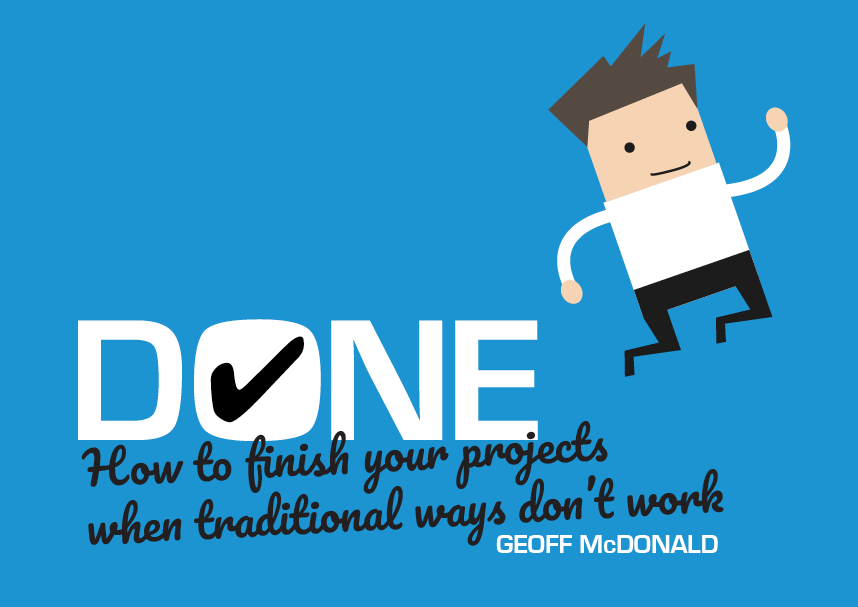 Manifesto
1 Stop planning!
The old saying suggests that 'if we fail to plan, we plan to fail'. But planning is not enough – particularly when it only describes what are we are going to do. We need to stop planning and start designing to include our motivations, inspirations, and passion for our projects.
2 Don't fix your problems
We all know what we want. But most of what we want is to fix something that went wrong in our past. This is limiting and it's not satisfying either. Instead, we need to clear the decks of our past if we want to create a truly compelling future.
3 Inner over outer
When we fail at things we presume we are the failure. And that we are fatally flawed in some way. That's human nature. But the real problem is we fail because we choose the wrong type of goal. We need to focus on our internal motivations to keep us going when we face the dip, an obstacle or simply when it all gets too hard.
4 Rules rule!
As the world has become more complex our plans for the future have also become more complex. Fighting complexity with more complexity is a recipe for confusion, chaos, and disaster. Instead, we need to develop simple rules to make it easier to navigate in complex situations. Think traffic lights!
5 Ship smaller sooner
Traditionally we aim to deliver one big thing at the end of our projects. The problem with this approach is the lack of feedback. This leaves us wide open for creating something that nobody wants. Been there, done that! That's a short cut to "Why did I waste my time doing that?" Or worse, "What is wrong with these people, don't they recognise my brilliant work?" That's not going to lead you to a happy place. Instead, we need to create smaller versions of our final big thing to find out what will ultimately work.
6 Structure shapes success
The usual story is that we fail because of a lack of willpower, discipline or focus. This only tells part of the story as there are forces bigger than us at work impacting us in invisible ways. Therefore, we need to design our environments to promote the behaviours we want and to stifle those we don't.
7 You have to change
When we create our projects our focus is naturally on the end result. However, if that's all we do we miss a big opportunity. The real purpose of our project is to create a change in our situation and to make that change stick. To do that we need to change!
Source
Geoff McDonald and his book Done: How to finish your projects when traditional ways don't work
Comment
The language we use in our manifesto is the key to giving it a decisive edge.
There's something strong and definitive about saying things are 'rules'. It implies following them, sticking to them and using them as boundaries.
Compare this to principles, guidelines, things… All useful but provide a different flavour to our message.
Further, the rules that follow also need to have a mix of familiarity and intrigue. I believe some need to be relatively obvious – for instance, most people will understand 'rules rule'. It implies that rules are important.
In contrast, 'inner over outer' is less obvious. It begs the question, what specifically is 'in and out' referring to? In this case it's about inner and outer motivation styles.
Stop Planning is another interesting rule because it is provocative – it challenges our usual thinking.
Plus, we want our rules to be sexy and slightly clever (not too clever). For instance, the alliteration (using the same sound or letter) of 'Ship Smaller Sooner' rolls off the tongue and becomes a snappy idea. It's much more engaging than 'Get things done quicker'.
When you're writing your manifesto, pay attention to the words you use – words have meaning and impact. Choose carefully. Play with a thesaurus to figure out the right ones. And test this with a live audience face-to-face to reveal their emotional impact.
More
Geoff McDonald, The Manifesto Manifesto
Geoff McDonald, The Expert Manifesto