Creator
Gordon Gecko is a character portrayed by Michael Douglas in the movie Wall Street (1987).
The movie was directed by Oliver Stone, produced by Edward R Pressman and written by Oliver Stone and Stanley Weiser.
Purpose
The story of the movie is about a wealthy corporate raider Gordon Gecko played by Michael Douglas and his interactions with the young stockbroker Bud Fox, played by Charlie Sheen.
Douglas won the Academy Award for Best Actor for his role as Gecko.
The character Gordon Gecko is said to be a composite of several people – including Stone's father who was a stockbroker on Wall Street during the Great Depression.
The film portrays an archetypal view of 1980's success. The lead character famously states: "greed, for lack of a better word, is good".
It contrasts the desire for a quick-buck or fast result epitomized by Wall Street as compared to the traditional steady, hard work approach of many companies and individual workers.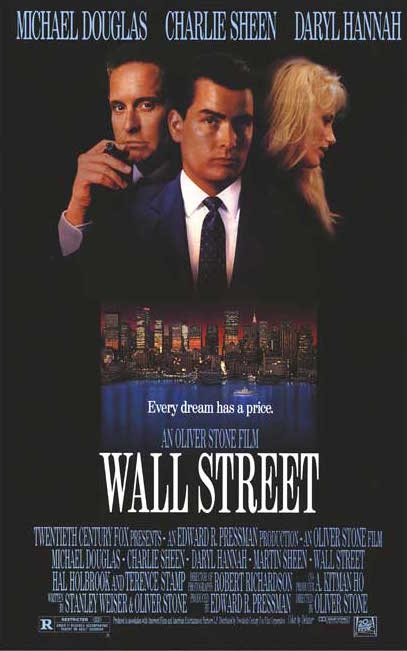 Manifesto
The manifesto or philosophy of the movie is best captured in a scene where Gecko (Douglas) speaks to the stockholders of the fictional company Teldar Paper.
Here is an extract from that speech:
I am not a destroyer of companies. I am a liberator of them!

The point is, ladies and gentlemen, that greed – for lack of a better word – is good.

Greed is right.

Greed works.

Greed clarifies, cuts through, and captures the essence of the evolutionary spirit.

Greed, in all of its forms – greed for life, for money, for love, knowledge – has marked the upward surge of mankind.

And greed – you mark my words – will not only save Teldar Paper, but that other malfunctioning corporation called the USA.
Source
Suggested by Lauchlan Mackinnon
Comment
Does a manifesto have to be 'real' to be valuable? Not in this case.
The success of this manifesto is that it was able to capture and speak to the prevailing mood of the 1980s – it simply presented it in as an easy to digest movie morsel.
In particular, this fictionalized account has a licence that a true story based on specific individuals probably would not have been able to – except with a certain promise of a law suit.
Interestingly, while the purpose of this manifesto was as a social commentary, it did have the unexpected side-effect of inspiring many people to work on Wall Street – based on the number of comments that Stone, Sheen and Douglas received over the years.
Also, it shows that a manifesto always sits within a wider context of people, story and narrative. It highlights that some will adhere to your viewpoint, others will not and there will be consequences for the actions that follow.