Creator
Elena Mutonono and Veronika Palovsak are co-authors of Opted Out of the 'Real Job'.
Purpose
Elena and Veronika opted out of their 'real jobs' and built small online businesses to have more freedom and flexibility to pursue their dreams.
Their book and manifesto is intended to encourage and assist "restless cubicle professionals" to do the same.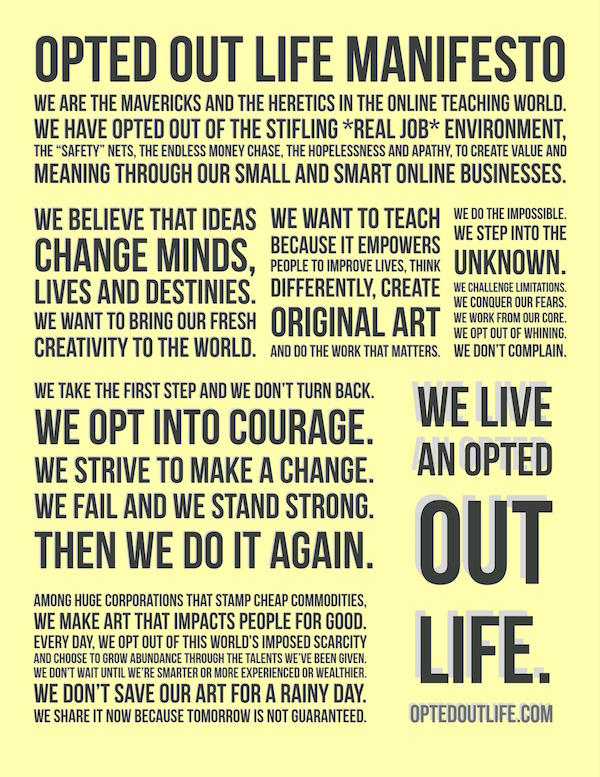 Manifesto
We are the mavericks and the heretics in the online teaching world. We have opted out of the stifling 'real job' environment, the 'safety' nets, the endless money chase, the hopelessness and apathy, to create value and meaning through our small and smart online businesses.
We believe that ideas change minds, lives and destinies. We want to bring our fresh creativity to the world.
We want to teach because it empowers people to improve lives, think differently, create original art and do the work that matters.
We do the impossible. We step into the unknown. We challenge limitations. We conquer our fears. We work from our core. We opt out of whining. We don't complain.
We take the first step and we don't turn back. We opt into courage. We strive to make a change. We fail and we stand strong. Then we do it again.
Among huge corporations that stamp cheap commodities, we make art that impacts people for good. Every day, we opt out of this world's imposed scarcity and choose to grow abundance through the talents we've been given. We don't wait until we're smarter or more experienced or wealthier. We don't save our art of a rainy day. We share it now because tomorrow is not guaranteed.
We live an opted out life.
Source
Comment
This is a classic word based set of rules for life.
While the context of helping teachers (or instructional designers) step out of their workplace cubicle and into a freelance or self-employed role is a deep niche, their manifesto reads as a general situation that could fit for many other groups.
This could be good and bad. It could be good because it speaks to a wide audience. It could be bad because it is too general and doesn't speak closely enough to the needs, wants and desires of your intended audience and therefore may fail to engage them.
The simple key to getting this right is to test your manifesto. Once you've written it, share it with the your chosen market. Listen to their comments and feedback and adjust accordingly.
There is no right answer here, simply whether the manifesto you have written plays its part in helping you fulfil your desired result.
More
Flying Solo Micro Small Business Manifesto